Description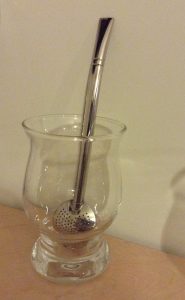 This hand blown glass cuia is approximately 10cm high and made especially for those who appreciate small fine-powdered mates and want to see how the wall of mate looks inside the cuia.
The cuias are dishwasher friendly and have a stable base.
They do tend to get hot in the hand after a while, so it is extermely important to care that your water temperature is suitable for serving mate.
These cuias are idea for those working with mate to serve them at events and fit with our mini inox bombas.
Video of how the cuias are made: https://www.youtube.com/watch?v=K_NAXh8ICyQ