Description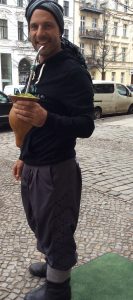 After drinking a number of mates, do you find yourself identifying strongly with the Gaucho culture ? Ready to show this to the world?  These polyester pleated pants complement a good mate.  Traditionally worn by the Gaucho's, the bombachas are comfortable and flexible on top, allowing one to easily mount a horse, bike or move around without any constrictions, yet at the same time, the tapered cuffs around the ankle ensure that they do not trip one up.
We have a selection of Bombachas from Brasil that offer a good blend between formal and casual wear.  The pleats along the sides offer an elegant touch.
These bombachas are available in selected colors and sizes, pelase contact us individually regarding this.