Description
This new way of drinking Mate is another innovation that Meta Mate is bringing on the market.  For those who enjoy to have their mate on the go without the hassle of a cuia and bomba, this bamboo-cased stainless steel Mate Thermo offers a convenient eco-friendly solution to take your mate with you and keep it warm (or chilled) for a couple of hours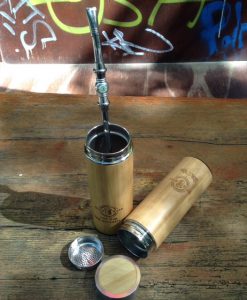 The thermoses are leak proof and come with a steel filter inset that is suitable for leafy mates. However, for the ultimate to go mate experience we recommend usage with our MM XXL Bomba and Revolution Thermos.
Your portable Mate that works perfectly with our Meta Mate Bomba, just add a few spoons of mate inside. Add hot water and either drink immediately through the Bomba or screw the lid on tightly to transport your Mate.
Enjoy your Mate to go, either flavoured or pure. The Thermos glass keeps the water hot for about 45 mins just in case you feel like transporting your mate to drink elsewhere.