Description
This fresh and wild Rooibos is a joint venture with Yerba Mate South Africa who sources this organic native tea from a small local production.
The fermented (red) and virgin (green) rooibos stem from the region of Cederberg which is inhabited by the KhoiKhoi tribe (considered one of the most ancient tribes in Africa, communicating with clicks).
Rooibos gained popularity through adoption by colonizers (like the missionaries and mate), providing them with an economical energizing infusion due to its composition and it remains a favourite for those wishing to have caffeine free mates.
Savour the sweet caramel flavours of Rooibos combined with the freshness of our mate to create a mate with less caffeine and a complex flavour.
Not sure which one to try? Verde?  Vermelho?
Take a peek into how this Rooibos was harvested along with Jovi from Yerba Mate South Africa
April 3rd.  South Africa.
Oi amigo,
I had a very blessed journey into the rooibos country. My guide was a passionate local government employee in charge of small Farmer Support & Development. Without her, it would not have been possible to meet the good people who work in the right way.
Photos 1-6 : these were taken high up in the mountains (access by 4×4 only) where there are some isolated small farming communities that have been there for generations making rooibos. The rooibos from the high altitude region is the best of the best (it is a known fact to all in the industry) and protected from contamination. Real mountain rooibos. The people are descendant of the original khoi khoi bushmen and they have the knowledge of preparing the rooibos in the traditional way. This is something that is not available in the market at all. It would be a pioneer product. It is done by hand, a process that takes 2 days.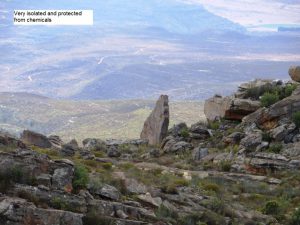 Photos 7-12: my visit to an organic (ECOCERT) rooibos industria, SKIMMELBERG. Very good way of working organically. They sell loose rooibos, Their rooibos is markedly stronger and darker than most. I think the quality is some of the best of all the industrial rooibos. Unlike yerba mate, rooibos is sun-dried, even in industria, so there is minimal contamination and very sustainable.
Video below of the KhoiKhoi Tribe