Description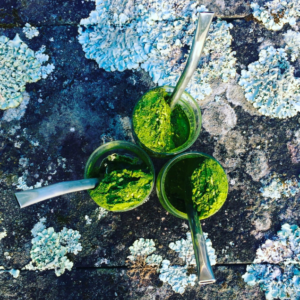 The 2020 Harvest of our Classic Moonshine Mates 
Meta Mate is fresh and harvested directly from primeval forests in Brazil. Our small scale traditional production is based on knowledge from the indigenous and commited to rescusng the endagered decentral artisanal agricultural model by supporting families who have been making mate since generations.
The Family Gehm has been producing mate since 4 generations with their children sleeping in the Barbacua as the parents dried the Mate. Their forests contain a rich and diverse ecosystem of Mate trees.
No one besides Tolotti Senior is entrusted to sapeco the leaves of the mate produced by the family. His skillfull manner in rapidly passing ca. 40cm branches of mate leaves over the re to open the stomatas of the leaves and stop the oxidation process.
By providing these families with a perspective to sell their mate, we are able to support and give value to a diverse and endangered method of producing mate and share this with drinkers.