The past few months have been busy times for Meta Mate as we continue with our efforts to spread and share the Mate culture.  Besides Fabricio's travels to South America to make the mate, and then to the US and now UK to present it, we have also been receiving many visitors here in Berlin.
We recently proudly showcased Berlin's mates at the Chamber of Commerce Fair for innovative foods out of the region.   And for those of you who read the German Press, you might have seen an article about Meta Mate that was carried in the wires by the Deutsche Press Agency 
Upcoming Mate Events:  
ConMate – For those of you who speak portuguese, there will be an online Mate symposium from the 24-28 of September where Meta Mate will also make a presentation.  The symposium is free but registration is required
Open Day at Essentials Trading – For those of you in the Bristol area on the 30th of September drop by the Essentials Open Day Trading Fair where we will be offering different Mates to taste.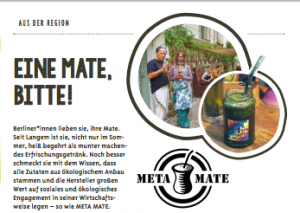 Pop Up Shop in Bio Company Okt 8 – 13 – For those of you in Berlin, we will be doing a Pop Up Shop Aktion at the Bio Company in Yorckstrasse.  So stop by for a Mate and to try some of our new mate products.
Berlin Tea Festival Nov 17 –  We are delighted to take part in the first ever Berlin Tea Festival mid-November where we will be offering a mate making workshop and show drinkers that mate is more than just yerba.
HeldenMarket Nov 17 – 18 – Meta Mate will also make an appearance at the Heldenmarket mid-November at Station Berlin.  This market celebrates sustainability and innovation in the commercial sector.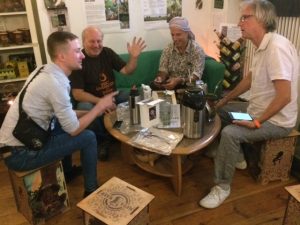 We recently had a few rounds of mate with Pijumate who enthusiastically drove down from Brenau to taste our new harvest and returned with a car full of mate. After several rounds of mate drinking and training they are ready to serve up some of the finest mates in their tea house.    www.pijumate.cz