Revolutionizing Mate Drinking:
 The invention of the Thermos heralded new times for mate drinking. No longer, did the mate need to be drunk around the fireplace, this flexibility to take your mate with you brought mate drinking out of the realm of the home or stables.
At the forefront of Re-Revolutionizing mate drinking in an urban context, we are introducing a durable line of thermoses guaranteed to serve up hot mates in the coldest of winters.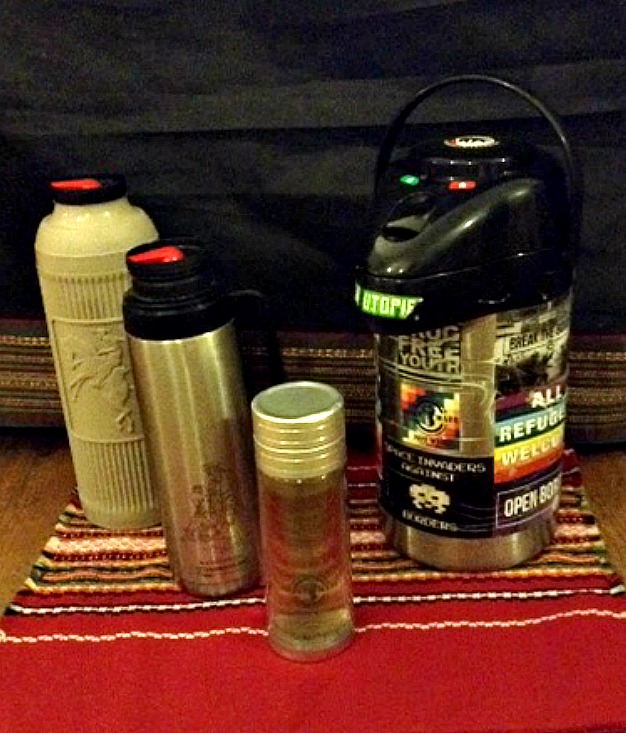 After several requests from customers eager to have an appropriate mate drinking thermos, with a serving spout designed to delicately moisten the mate, we got to work checking with suppliers in Brasil.
Meta Experiments were carried out in our Mate Hack Lab to compare the temperature retaining capacities of some of our thermoses.
Test 1: Indoors, Room temperature 25°C
| | | | | | | |
| --- | --- | --- | --- | --- | --- | --- |
| Thermos | 11.20 am 0 hrs | 12.20 pm +1 hr | 1.20pm +2 hrs | 4.20pm +5 hrs | 6.20pm +7 hrs | 9.45am + 22 hr |
| Plastic Chimaritta 1 L  Typical South American thermos for serving mate, plastic exterior, glass interior, cheap and breaks easily | 100°C | 99°C | 96°C | 89°C | 86°C | |
| Thermolar – Revolution 1L Stainless steel durable thermos with serving spout for mate. | 100°C | 99°C | 96°C | 89°C | 86°C | |
| Airport Mate – 2,5 L Solid with a pump to spurt out the hot water, this thermos adds the cream to your mate and is ideal for a group | 100°C | 99°C | 96°C | 90°C | 87°C | 68°C |
| Tepiano Thermo-Glass 260 mL Acrylic coated thermo glasses fitted with a sieve offer a quick Mate to go | 100°C | 60°C | 45°C | 28°C | 28°C | |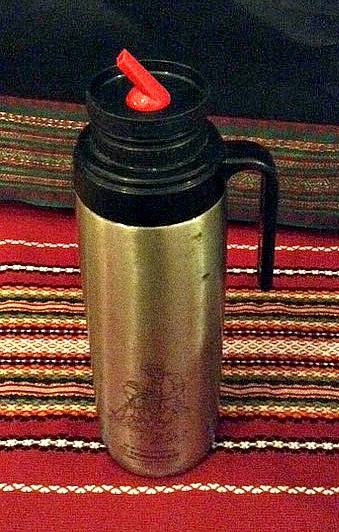 The Revolution Thermos is 2,5 times the price in comparison to a similar thermos on the market that sports the same body, we were curious and conducted a competition
Test 2 – 0°C outside
| | | | |
| --- | --- | --- | --- |
| Thermos | 12pm  + 0hrs | 1 pm  +1 hrs | 3pm  +3 hrs |
| Imitation Inox Thermos | 100°C | 80°C | 52°C |
| Thermolar – Revolution 1L  Stainless steel durable thermos with serving spout for mate. | 100°C | 99°C | 95°C |
Conclusion:  The imitation inox thermoses are practical for enjoying a mate in the part in the summer, but if you are planning to be out in the cold for a while, you might consider investing a bit more. They are practical to carry around and serve from but do not hold the temperature long-term
Revolution 1 Litre – Even if it takes you 4 hours to drink your litre of mate a day, this stainless steel thermos stands well to the temperature test. The sturdy hook makes it practical to carry around and have your hands free to cradle the cuia.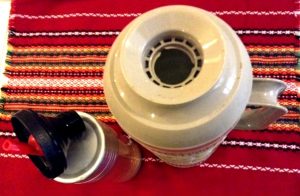 Plastic Chimaritta – The commonly available Brazilian plastic chimaritta performed unexpectedly well, it holds the temperature and is easy to serve. For those who want a cheap short-term investment go for it, however be warned, they break very easily and are therefore not suitable for mobile mating.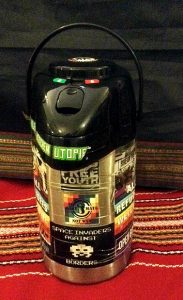 AirPort Mate – Are you a heavy duty user, one who savors long mate drinking sessions without the interruption of having to heat up more water Equipped with a practical pump to gush out the steamy water and froth up your green brew, this thermos is a statement, and has a handle to carry it around.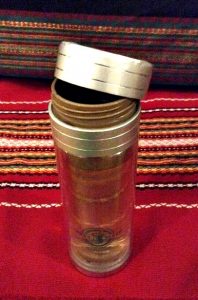 2 in 1 Thermo Glass – The popular Meta Mate Thermo Glass can be commended for retaining some degree of warmth, it is incomparable to the Thermolar Thermoses, but suitable for itÄs purposes of and is highly compatible with the Revolution Thermos