Description
This new way of drinking Mate is another innovation that Meta Mate is bringing on the market.  For those who enjoy to have their mate on the go without the hassle of a cuia and bomba, this acrylic Mate Thermo with an inner glass chamber  a convenient way to take your mate with you and keep it warm for a couple of hours The Thermos combines perfectly with our MetaMate Bomba.  
Background:   Inspired by a recent retreat where the amount of items we could carry was limited and the amount of time to drink mate was even less, Fabricio discovered this innovative, practical way to enjoy his Mate on the go.
This product was actually recommended to us by a customer is a practical Cuia subtitute that lends itself to traditional or normal mate drinking.  Fit with a fine strainer, this 260mL acrylic cased glass thermos is a smarter version of the popular Argentinean plastic MaTche's.
When this new form of Mate drinking was unveiled at the International Mate Congress in Uruguay in May 2014, the items were sold out within minutes, it's a necessity for the serious Mate drinker, who wants to travel light and have a mate to go in all situations.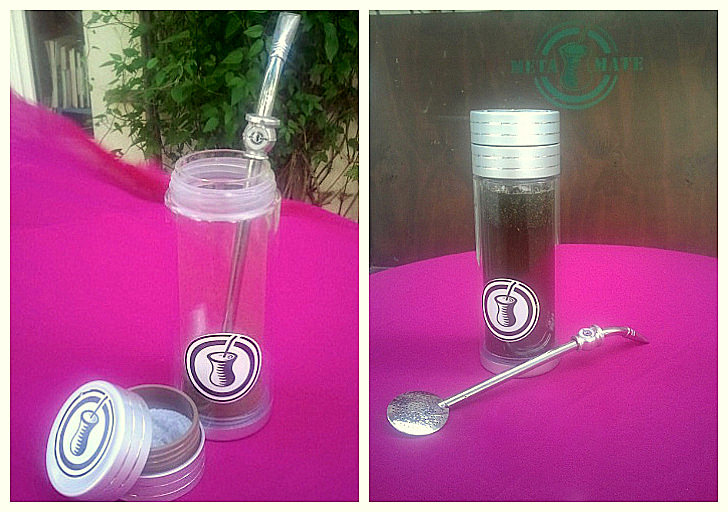 Your portable Mate that works perfectly with our Meta Mate Bomba, just add a few spoons of mate inside. Add hot water and either drink immediately through the Bomba or screw the lid on tightly to transport your Mate.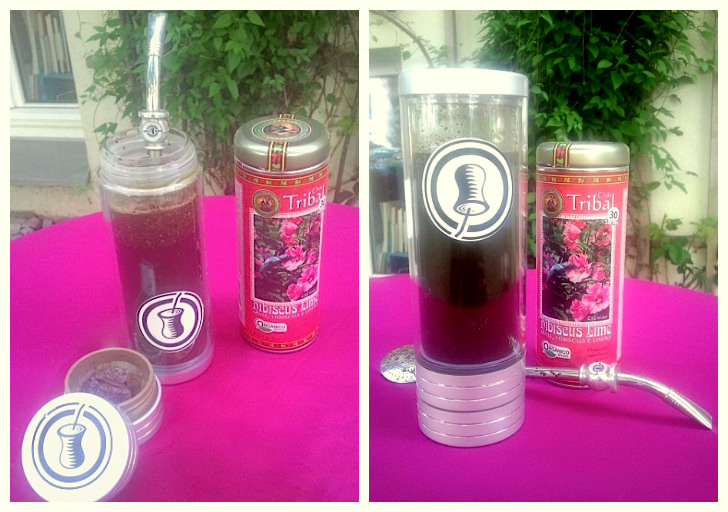 Enjoy your Mate to go, either flavoured or pure. The Thermos glass keeps the water hot for about 30 mins just in case you feel like transporting your mate to drink elsewhere. An optional way of steeping or flavouring the Mate is to insert another herb (or tea pad)into the filter compartment and steep for desired amount of time.
WARNING
A similar version is available on the market but be aware that the plastic inside is not suitable for hot infusions, ours is made out of glass and is approved by German product standards.  Nevertheless, check out the link below for inspirations for  the power for off-centered infusions. Just twist off the top; add hops, spices, fruit or whatnot, fill with off-centered ale and savor the fruits of your creativity.