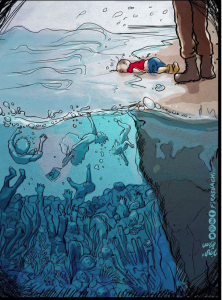 Syria is sliding its way into the headlines quite often these days with tales of stranded refugees, and violent clashes in this war striven Middle Eastern land.  According to the international Business times, 'Germany is likely to receive 800,000 asylum-seekers this year.'
Syria happens to be the largest global importer or yerba mate outside of South America.  This tradition has its roots in the elite who once fled their native lands for South American Soil in a civil war and then returned home some decades later with Mate.  The Yerba Mate blog investigates the middle eastern mate connection.
Recently, at the annual celebration from our local collective organic store, I had the chance to sit down and drink a mate with Mohammad Abu Hajar, who recently arrived in the Berlin area via Italy, hoping to benefit from recent laws that Angela Merkel signed for Syrian Refugees.
Over a mate, Mohammad unravels to me the  twisted history in the Syrian war that has made headlines.  Friends of his join our mate round, 20 days ago the father from one had been tortured and murdered in prison back home.  His uncle suffered the same fate 10 days later.  Mohammad can only have the deepest faith that his wife and son who are currently in Lebanon will be able to safely join him in Berlin soon.
At the Bienenwerder Hoffest, which also featured a photographic exhibition about the 15th Garden in Syria – Food Production Sovereignty in Times of War, Hajar joined on stage with Ahmed and Munir, long lost friends whom he last played together with in prison to keep warm and 'munter' in the cold conditions.  It is an emotional reunion for the band whose sharp political lyrics speak the truth of their situation.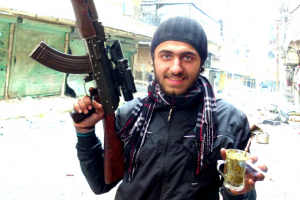 It is interesting, although true Mate ceremonial drinking is associated with mutual understanding, peace and commune, mate's history is a bit more bloody than the golden green myth….both the indigenous south american tribes and the brasilian army powered their forces with mate.  It is believed that German troops introduced Mate to their Russian comrades in the early part of the 19th century, and the middle East also flaunts its fair share of kalashnikovs and mates.
Some syrian refugees whom we initially encountered in Berlin last year refused to share a mate saying that it was the drink of the opressors; since then there have been a number of coups with each party who takes control probably having its own mate ritual.
Hajar describes to me some of the different mate drinking customs in his homeland.  In southern Syria, near Jordan, mainly the Druze drink mate, and do so by taking a sip and passing it on and refilling with water when empty.  This method of drinking is also often practiced in Poland.  Wherelse, the nothern region has adapted more of the traditional south american protocol with a cervador and the act of slurping at the end of the mate (a habit that others laugh about).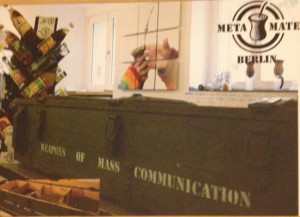 This magical mate moment  with Mohammad is one of the most rewarding reasons for sharing a mate.  The act of sitting down with someone to share a drink and exchange stories is underestimated in today's day and age where everyone is distracted by society.
We wish that all of you find the time this month to sit down and drink a mate with someone and share ideas and for those of you in Berlin, Mohammad will be joining us at the Caffeine Hackathon on Sept 12, 2015 at 1pm at Meta Mate.