After a mate filled summer, we are slowly moving into autumn with plenty of September events at Meta Mate.
On the 10th of September we will have a Consensus Democracy Workshop with Uwe Lubbermann combining his experience in Premium Cola  with the democratic aspects of the mate drinking ceremony.      The workshop will be in German.  Register online spaces are still available.
On the 11th of Sepbember we (Fabricio and Krithika) will be celebrating a personal acheivement of 13 years together (yes, we met on the September 11)  We will be at Meta Mate from 13.37 hrs onwards and look forward to drinking many mates with many of you who have been part of our conspiratve plans to dominate the world with colors and mates.  Please join us.
On the 12th  of September we will have our monthly Portuguese German Staamtisch
Die annual Königs Brauerei Hoffest is on the 13 september afternoon and we will be there in this neighbourhood party showing our Kiez about the work that we are doing and serving up some Mates there.
20th September is the Gaucho Celebration day and we will have some special mates for you so celebrate the cradle of the mate culture
We still have a couple of kilos of our Carijo Harvest, but we are running out quickly. In fact, all of our mate supplies are running low at the moment until our new container arrives, so reserve your mate before it's too late!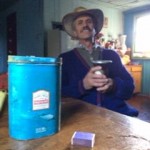 By mid-October we will receive our new Meta Mate Bombas and Mate Thermo-Glasses.  Reserve in advance and save 23% on these practical glasses that make a perfect Mate to Go!