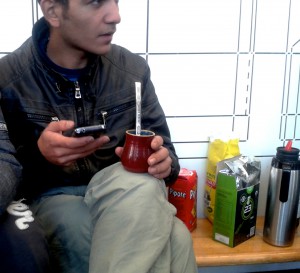 As of late there have been many debates as to how the German government is handling the massive influx of refugees in the past months.  In the past weeks many sports halls in Berlin have been converted to emergency, temporary dormitories for refugees as the officials struggle to maintain the infrastructure and sort through the burocracy.
There have been many calls for donations, with clothes, first aid supplies, toys, books pouring in to make those who have just arrived feel a bit more comfortable after their weary journeys.  Volunteers are dedicating lots of time and effort to help as well.
In case you want to sponsor Mate for refugees, we are still collecting it and will keep passing it further.
As materos, we felt the need to our part and did a small call of donations to get some of our customers to sponsor a mate for the Syrians arriving in Berlin.  We cover  1 Mate set, 3 cuias and 10 packages of Mate through this action.
On November 8th, we took some of the mate and 2 of the cuias to a temporary camp that had been set up in a Sports hall in our neighborhood a few days ago to drink some mate with the newly arrived guests.  Those whom we were able to sit with were overjoyed to see the drink that they knew from back home being offered to them.  And they were very impressed by the freshness of our mate and especially the size of the Brasilian cuia.  Our mate circle was very much photographed with 'selfies' being taken with the cuia in the hand.
However, one thing that we did not count on is that everyone wanted their own mate.  This individualistic mate drinking was also reinforced by the volunteers at the camp who mentioned that they had to operate under very strict hygenic norms because of the danger of infections spreading in such close quarters where people were arriving from all over the world.
On the 6th of December we will offer Mate at the Christmas party for one of the homes that is down the street from us.  We were recently vistied by some of the women living there who came to enjoy a mate.