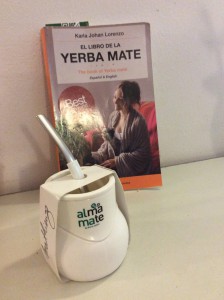 We recently had the honor of being invited for a Mate Presentation at the Argentinean Embassy with Argentinean Mate Ambassador Karla Lorenz.  Lorenz, author of a book on Yerba Mate and a renowned Mate Sommelier was in town for a short visit to promote her work, her upcoming line of Mate and most importantly to share her knowledge of her culture's favourite drink – MATE.
During a 2 hour presentation, Lorenz elaborated on the history, production process and cultural adaptations of Mate, taking the time to answer questions from the public with the help of a translator.  At the end of the talk, the guests were invited to all have a try at preparing a mate in a workshop that was sponsored by a mate company.
Lorenz's presentation and subsequent visit to Meta Mate to have a bit of a cultural exchange on mates, with us making a Brasilian style mate for her and she making an Argentinean style mate for us brought about many reflections as to how although a certain amount of rivalry exists between the neighbouring countries, when one sits to drink a mate together these are all irrelevant.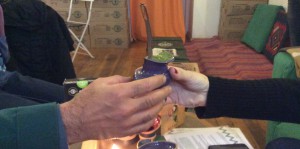 One of Ms. Lorenz's favourite quotes from Manuel Seoane is:
'Mate is like the peace pipe, it goes from mouth to mouth in an intimate circle which always embodies a fraternal friendship.'
Click here to see Lorenz's video on how to make an Argentinean Mate using Meta Mate 23
On a side note we must smirk and comment that the staff at the Argentinean Embassy keeps the best mates for them and the paper cups and plastic bombas for the tastings were a unique experience.  It was an honor to enter the office of the cultural secretary in the embassy and see a collection of hand painted Meta Mate Ceramic Cuias!