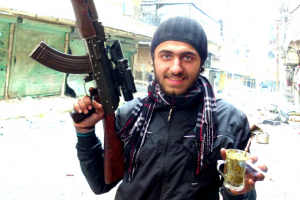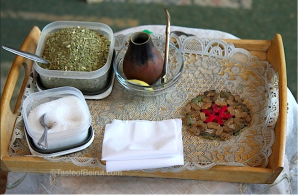 Participate in our Campaign to Sponsor Mate for Syrian citizens arriving in Berlin
On one hand, you have the drink of friendship, symbolised by sharing and on the other you have a drink of the warriors.
MATE – from the indigenous to the christian missionaries to the war-striven middle-east, the Ilex paraguarinesis is esteemed by all of these cultures for its energetic effects and the sense of unity that it induces.

The Guarani used to sit around the fire and share knowledge while drinking a mate together.  We would like to offer the newly arrived guests in Berlin to do the same.  Mate is an integral part of the Syrian culture for anyone under 35; most are missing this drinking ritual in their new surroundings.  Sitting around and waiting in temporary refugee homes, many would be thankful to have a good Mate to reflect on what they have been through and plan their next steps.  It is part of the culture for folks to sit around and drink a mate, and we would like your help.
Many spent the past weekend celebrating 25 years of German reunification; a war striven country divided by opposing ideals is still part of the recent history in this land which in the subsequent years has become home to citizens from around the world.  And now as we welcome the latest wave of migrants from distant lands we are launching a call for sponsoring a mate for individual or group materos.
CLICK HERE TO TAKE PART IN OUR SPONSOR A MATE CAMPAIGN
Up to the 8th of November you have a chance to participate or encourage friends to do so, after which we will start to visit the refugee homes and distribute the mate and drink a mate with residents and share stories.