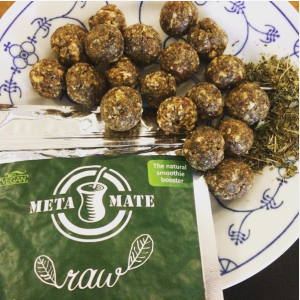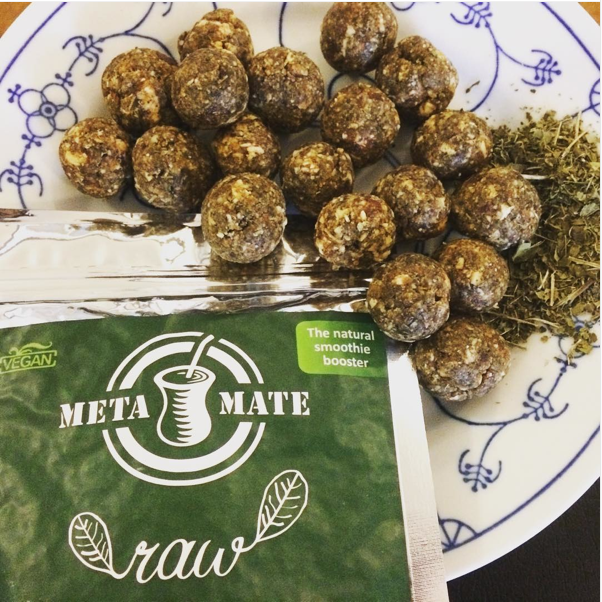 Meta Mate Raw lends itself to numerous possibilities in the kitchen for those wishing to experiment
Energy Balls:  Grind the following ingredients separately:
200g of Nuts (Almonds, Cashews, Hazelnuts & ParaNuts)
250g of Dried Fruits (Dates, Apricotes, Apples)
25g of Meta Mate Raw
Mix items in a bowl and knead into a dough.  Roll into small balls and enjoy.
Use Meta Mate Raw as an add-on in all of your favorite recipes:
Smoothies – Soak 1-2 Tbs of Raw Mate in Water or Juice for 5 mins and then blend it together with other ingredients in smoothie or juice of your choice. We recommend stronger flavors like Orange, ginger, Apple to counterbalance the bitterness
Topping: Next time you cook a rice dish, soup, or even bake a pizza, temper this dish with 1-2 Tbs of Raw Mate by just sprinkling it on top 10 minutes before serving to add a little kick to your meal.
Experimenting: Knead 3-4 Tbs of Raw Mate into a bread dough, mix it in your cake batter, use it as a base for your veggie stew, this mate offers foodies the chance to let their creativity run wild.