Description
This smooth, invigorating "Texan Tea" can be prepared as a normal infusion steeping 1 tsp in a cup of hot water for 5 min or prepared as a mate with gourd and bomba (pump).
Yaupon (Ilex Vomitoria) is the only caffeinated plant that grows in north america and was drink for purification and unity rituals. We have processed using different technologies. The craft made is the meta mate craftman Derek who himself comes from Guarani origin and made this as a present to meta mate gipsy uru Fabricio.
As meta mate was the first to put on the USA Market a craft Yerba Mate, now we are over happy to offer the first trials of a this north and south american breed. If you heard about the rainbow worrier prophecy you will sure enjoy it and know we are about to make something great.
t pure chaga to provide you with power as the summer nears to an end.
Attention: This product is not certified by any body BUT Meta Mate and Meta Mate Derek can gaurentee the quality announced and source of this Chaga harvest under the principles of Fair Trust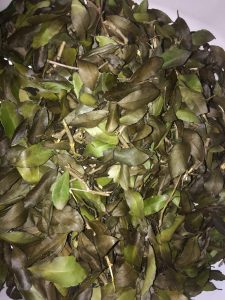 From the total of 0,5kg of Yapoun Craft we received, half we sent to the producer of
Chaga
, the Meta Mate Kevala, who shall be reviewing it soon.  The process of making is explained in the short report we will post here soon.
Thermos preparation – Alternative is to boil it for 5 minutes and put the content with Chage in a thermos. We recommend usage with a good quality thermos.  Meta Mate Thermolars hold the water at 100°C for six hours what allows maximum extraction from the yapoun benefits.
You can read more about Yapoun ( Illex Vomitoria ) in Wikipedia