Description
Dieser Meta Mate Raw Ultra stammt aus vor Verschmutzung geschützten Wäldern und wird gefroren, um eine Oxidation zu verhindern. Ausserdem wird er mit sehr niederigen, kontrollierten Temperaturen getrocknet und hat eine rohe, ballaststoffreiche Konsistenz.
Da es sich um eine natürliche Produkt handelt, unterscheidet sich jeder Baum so, dass es nicht möglich ist, die genauen Werte zu ermitteln, aber auf der Grundlage der Forschung mit der Beuth University und den Sophia Labs können wir sicherstellen, dass dies der reinste Kumpel auf dem Markt und durch die niedrige Temperatur der Trocknung es konserviert die Mineralien und Antioxidans Kapazität als kein anderer Mate.
Dank dieser einzigartigen Verarbeitsungsmethode ist dieser Mate Raw Ultra als der essbare Mate bekannt und kann über Ihren Lieblingssalat gestreut oder mit Studentenfutter gemischt werden, um Ihre Malzeiten mit Energie zu versorgen.
Mehr über dieses Mate können sie hier erfahren auf English.
Was wird darüber gesagt:
" Meta mate raw is absolutely the best yerba mate I have ever drank, if not one of the finest natural beverages I have ever consumed… and I have consumed A LOT in my years."
"This is yerba mate on a whole new level".
Review by Mark Kozar

Organicmate.net

from Canada
Dieses Mate ist ab September 2017 Bio Zertifiziert und ab September 2018 wird es auch Demeter sein.
Die Haupt Verbesserung von die Raw Ultra in vergleich zur Raw Classic ist die Trituration. Vorher war es mit der Einsatz von Wasser und jetz es ist trocken in gefrorenen zustand. Der neue Prozess erlaub die Blätten weniger zu verlieren und sichere eine bessere Konzentration der Stoffe wie Antioxidanten in den Blätten.
Sehen Sie den Film wo Sie die kleinen Blattstücke überprüfen können. Das Meta Mate Raw Ultra neue qualität hat weniger Faser, dunklerer als der ehemalische weil den ursprünglichen Farbunterschied zwischen beiden Seiten der Blätter wird behalten.
Es ist eine Neuigkeit, die Meta Mate auf den Markt bringt. Raw Ultra hat einen sanften, milden Geschmack und für Menschen, die sich Sorgen um die PAH Kontamination des Mate machen, dieser Mate hat den niedrigsten Wert aller getesteten Mates, 0,58 Mu/ Kg Benzoapiren im Vergleich zu 8-20 Mu/ Kg von konventionellem Mate. Dazu es ist der einzige Bekannte mate der Anthrachinon frei ist.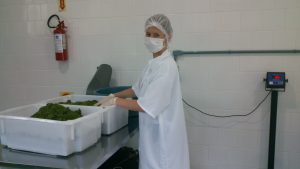 DURCH DIE ANGEBOTE VOLLSTÄNDIGE TRANSPARENZ WERDEN GESCHÄFTSPARTNER UND VERBRAUCHER INFORMIERT BEZÜGLICH DER SOZIALEN UND UMWELTLICHEN AUSWIRKUNG DES RAW MATE, WO SIE HERGESTELLT WIRD.
| | | | | | | | |
| --- | --- | --- | --- | --- | --- | --- | --- |
|  1 EURO =  |  3,73 REAIS |  AM 23.09.17 |   | | | | |
|  D.H.: Einkaufpreis |  in Brasilien: | 500 gr.: |   39,76 R$ = |  10,65 € | | | |
| | | 100 gr.: |  8,78 R$ = |  2,35 € | | | |
| | Prices in accordance to packaging | | | | | Price/1Kg | Price/500 Kg |
| Final Price RAW 500g | | | | | | R$ 79.52 | R$ 39,759.56 |
| Final Price RAW 100g | | | | | | R$ 87.75 | R$ 43,876.56 |
| RAW Granel Final Price | | | | | | R$ 74.81 | R$ 37,404.06 |
| | | | | | | | |
| | MATERVA – Price of  Leafy Production | | | R$ | Quantity in KG | R$ | R$/kg of RAW |
| Natural [erva mate]Yerba Mate leaves | | | | 2.00 | 1,600.00 | 3,200.00 | 6.40 |
| Collector's Cost (R$/Kg): | | | | 4.00 | 1,600.00 | 6,400.00 | 12.80 |
| Labor Laws(R$/Kg): | | | | 1.00 | 1,600.00 | 1,600.00 | 3.20 |
| | | | | | Total : | 11,200.00 | 22.40 |
| | | | | | | Total Cost of green leaves for 1kg of RAW: | 22.40 |
| | | | | | | | |
| | MATEBRAS -Processing costs | | | | | R$/month | R$/kg of RAW |
| Electric Energy (ref. Feb/2017) | | | | | | 2,000.00 | 4.00 |
| Water | | | | | | 470.41 | 0.94 |
| Employees Wages (5) | | | | | | 7,915.00 | 15.83 |
| FGTS (Social Security) +provisions+13º+Holidays | | | | | | 600.21 | 1.20 |
| INSS+PROVISÕES 13º E FÉRIAS | | | | | | 793.23 | 1.59 |
| PROVISÕES 13º E FÉRIAS | | | | | | 879.46 | 1.76 |
| 4,5% Sobre a folha de pagto. (custo empresarial) | | | | | | 356.96 | 0.71 |
| Sales Tax | | | | | | 925.00 | 1.85 |
| Monthly computer program fees | | | | | | 165.00 | 0.33 |
| Monthly Pest Control | | | | | | 155.00 | 0.31 |
| Security | | | | | | 150.00 | 0.30 |
| Accounting | | | | | | 615.00 | 1.23 |
| Telephone | | | | | | 300.00 | 0.60 |
| Heating | | | | | | 900.00 | 1.80 |
| Fuel | | | | | | 200.00 | 0.40 |
| Cleaning materials, desks, EPIS, internet | | | | | | 1,400.00 | 2.80 |
| Rent | | | | | | 3,500.00 | 7.00 |
| | | | | | Total: | 21,325.27 | 42.65 |
| | | | | | | | |
| | Packaging for 500g | | | | Quantity | R$/Unit | R$/kg de RAW |
| Packaging : | | | | | 2 | 1.01 | 2.02 |
| Tags | | | | | 2 | 0.66 | 1.32 |
| Subtotal: | | | | | | | 3.34 |
| Subtotal for 500Kg: | | | | | | | 1,670.00 |
| | | | | | | | |
| Packaging for 100g | | | | | Quantity | R$/unit | R$/kg de RAW |
| Packaging | | | | | 10 | 0.62 | 6.20 |
| Tags for 100g | | | | | 10 | 0.43 | 4.30 |
| Subtotal: | | | | | Subtotal: | | 10.50 |
| Subtotal for 500Kg: | | | | | Subtotal para 500Kg: | | 5,250.00 |
| | | | | | | | |
| IBD certification | | | | | | R$/year | R$/Kg |
| | | | | | | 5,220.00 | 0.87 |
| | | | | | | | |
| RAW Cost of Production 500G | | | | | | | R$ 69.26 |
| RAW Cost of Production 100G | | | | | | | R$ 76.42 |
| RAW Cost of Production in BULK | | | | | | | R$ 65.92 |
| | | | | | | | |
| | | | | | | | |
| | | Direct/Indirect Profits – Matebras | | | Bulk | RAW 500g | RAW 100g |
| Business Profits(10% ) per Kg of RAW: | | | | | R$ 6.59 | R$ 6.84 | R$ 7.56 |
| Technology (5%): | | | | | R$ 3.30 | R$ 3.42 | R$ 3.78 |
| Subtotal: | | | | | R$ 9.89 | R$ 10.26 | R$ 11.33 |
| Estimated profit in the production of 500Kg | | | | | R$ 4,944.04 | R$ 5,129.29 | R$ 5,666.29 |
| | | | | | | | |
| | Prices – Brasil | | | | | R$/1Kg | R$/500 Kg |
| Final RAW Price 500g | | | | | | R$ 79.52 | R$ 39,759.56 |
| Final RAW Price 100g | | | | | | R$ 87.75 | R$ 43,876.56 |
| Final RAW Price IN BULK | | | | | | R$ 74.81 | R$ 37,404.06 |
| | | | | | | | |
| | Prices – Brasil – anually | | | | | | Annual Value |
| Final RAW Price 500g | | | | | | | R$ 477,114.73 |
| FINAL RAW PRICE 100g | | | | | | | R$ 526,518.73 |
| FINAL RAW PRICE IN BULK | | | | | | | R$ 448,848.73 |
| | | | | | | | |
| --- | --- | --- | --- | --- | --- | --- | --- |
| | | |   | | | | |
|  DH.: | | | | | | | |
| | | | | | | | |
| | Prices in accordance to packaging | | | | | Price/1Kg | Price/500 Kg |
| Final Price RAW 500g | | | | | | R$ 79.52 | R$ 39,759.56 |
| Final Price RAW 100g | | | | | | R$ 87.75 | R$ 43,876.56 |
| RAW Granel Final Price | | | | | | R$ 74.81 | R$ 37,404.06 |
| | | | | | | | |
| | MATERVA – Price of  Leafy Production | | | R$ | Quantity in KG | R$ | R$/kg of RAW |
| Natural [erva mate]Yerba Mate leaves | | | | 2.00 | 1,600.00 | 3,200.00 | 6.40 |
| Collector's Cost (R$/Kg): | | | | 4.00 | 1,600.00 | 6,400.00 | 12.80 |
| Labor Laws(R$/Kg): | | | | 1.00 | 1,600.00 | 1,600.00 | 3.20 |
| | | | | | Total : | 11,200.00 | 22.40 |
| | | | | | | Total Cost of green leaves for 1kg of RAW: | 22.40 |
| | | | | | | | |
| | MATEBRAS -Processing costs | | | | | R$/month | R$/kg of RAW |
| Electric Energy (ref. Feb/2017) | | | | | | 2,000.00 | 4.00 |
| Water | | | | | | 470.41 | 0.94 |
| Employees Wages (5) | | | | | | 7,915.00 | 15.83 |
| FGTS (Social Security) +provisions+13º+Holidays | | | | | | 600.21 | 1.20 |
| INSS+PROVISÕES 13º E FÉRIAS | | | | | | 793.23 | 1.59 |
| PROVISÕES 13º E FÉRIAS | | | | | | 879.46 | 1.76 |
| 4,5% Sobre a folha de pagto. (custo empresarial) | | | | | | 356.96 | 0.71 |
| Sales Tax | | | | | | 925.00 | 1.85 |
| Monthly computer program fees | | | | | | 165.00 | 0.33 |
| Monthly Pest Control | | | | | | 155.00 | 0.31 |
| Security | | | | | | 150.00 | 0.30 |
| Accounting | | | | | | 615.00 | 1.23 |
| Telephone | | | | | | 300.00 | 0.60 |
| Heating | | | | | | 900.00 | 1.80 |
| Fuel | | | | | | 200.00 | 0.40 |
| Cleaning materials, desks, EPIS, internet | | | | | | 1,400.00 | 2.80 |
| Rent | | | | | | 3,500.00 | 7.00 |
| | | | | | Total: | 21,325.27 | 42.65 |
| | | | | | | | |
| | Packaging for 500g | | | | Quantity | R$/Unit | R$/kg de RAW |
| Packaging : | | | | | 2 | 1.01 | 2.02 |
| Tags | | | | | 2 | 0.66 | 1.32 |
| Subtotal: | | | | | | | 3.34 |
| Subtotal for 500Kg: | | | | | | | 1,670.00 |
| | | | | | | | |
| Packaging for 100g | | | | | Quantity | R$/unit | R$/kg de RAW |
| Packaging | | | | | 10 | 0.62 | 6.20 |
| Tags for 100g | | | | | 10 | 0.43 | 4.30 |
| Subtotal: | | | | | Subtotal: | | 10.50 |
| Subtotal for 500Kg: | | | | | Subtotal para 500Kg: | | 5,250.00 |
| | | | | | | | |
| IBD certification | | | | | | R$/year | R$/Kg |
| | | | | | | 5,220.00 | 0.87 |
| | | | | | | | |
| RAW Cost of Production 500G | | | | | | | R$ 69.26 |
| RAW Cost of Production 100G | | | | | | | R$ 76.42 |
| RAW Cost of Production in BULK | | | | | | | R$ 65.92 |
| | | | | | | | |
| | | | | | | | |
| | | Direct/Indirect Profits – Matebras | | | Bulk | RAW 500g | RAW 100g |
| Business Profits(10% ) per Kg of RAW: | | | | | R$ 6.59 | R$ 6.84 | R$ 7.56 |
| Technology (5%): | | | | | R$ 3.30 | R$ 3.42 | R$ 3.78 |
| Subtotal: | | | | | R$ 9.89 | R$ 10.26 | R$ 11.33 |
| Estimated profit in the production of 500Kg | | | | | R$ 4,944.04 | R$ 5,129.29 | R$ 5,666.29 |
| | | | | | | | |
| | Prices – Brasil | | | | | R$/1Kg | R$/500 Kg |
| Final RAW Price 500g | | | | | | R$ 79.52 | R$ 39,759.56 |
| Final RAW Price 100g | | | | | | R$ 87.75 | R$ 43,876.56 |
| Final RAW Price IN BULK | | | | | | R$ 74.81 | R$ 37,404.06 |
| | | | | | | | |
| | Prices – Brasil – anually | | | | | | Annual Value |
| Final RAW Price 500g | | | | | | | R$ 477,114.73 |
| FINAL RAW PRICE 100g | | | | | | | R$ 526,518.73 |
| FINAL RAW PRICE IN BULK | | | | | | | R$ 448,848.73 |