Description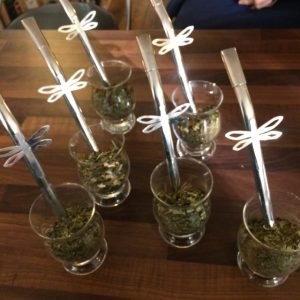 At Meta Mate we are always trying to find new ways to reach out to non-mate drinkers.  Inspired by the variety of blended and flavored teas that exist on the market, we have tried to do something similar with our mate.  Due to its gentle flavor, Meta Mate Raw is ideal for blending with other herbs.
Our Rainbow Raw Mate Range offers you 6 Mates – a different flavor a day based on Meta Mate Raw.  Each blend, carefully done by hand contains 80% Raw Mate, providing the perfect balance for both mate drinkers and non mate drinkers alike.
The mates were aromatized with natural oils and each blend was chosen to mirror a color of the rainbow and reflect a mood.
Red:  Hibiscus, Rosehip & Rose Pepper with Wild Cherry Aroma
Orange:  Orange peels and Safflower with Orange Aroma
Yellow:  Lemon Peels, Lemongrass and Sunflower with Lemon Aroma
Green:  Bamboo Leaves, Nettle and Kukicha (Green Tea Stems)
Blue:  Spearmint, Peppermint, Cornflowers and Mint Aroma
Purple:  Melisse, Black Currant, Mallow Petals and Black Currant Aroma