Description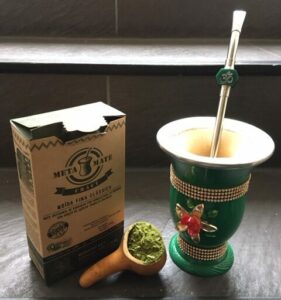 Meta Mate is more than just a brand of of Yerba mate…..Since the very beginning we have been committed to bringing out the finest and freshest energy from the forest to share with our friends around the world!
In our quest to rescue the original Gaucho Chimarrao we found the Family Gehm who had been making mate since four generations and were wishing to continue on despite the encroachment of their lands by the soya and industry.
Supported by collectivists in across the ocean who saw the importance in preserving community sustained agricultural values we embarked on the journey of securing the necessary paperwork in order to legally permit this family to continue making mate according to their ancestor's tradition. And since 2019 they have bee nable to serve the local market with their organic mates.
The Meta Mate Moonshine Mate Moida Fina Classico does indeed have  a tongue twisting name and its flavours are equally complex.  With soft smokey earthy notes.  This mate, harvested at dawn under the light of the full moon in May is dried with Camboata wood in a slow process over a couple of days in the wooden 'barbaqua' built by The Brothers Gehm.  It is then pounded in an antique wooden mill, and then thanks to technology, vacuum packed in a separate room by the Family Gehm.
From planting to packing, it was all produced by the same hands….