Description
Renowned in Russia and other North European countries since centuries as a folk remedy against cancer, the usage of chaga can be traced back to the indigenous people of the Kama River Basin.
In a joint venture with our Swedish Meta Materos, Essential Living, we were fortunate to have the opportunity to harvest and bring back a few hundred grams of some potent pure chaga to provide you with power as the summer nears to an end.
Most commercial Chaga available on the market today originates from China and comes in a dubious powdered form at bargain prices.  However, Meta Mate and Essential Living can gaurentee the quality and source of this Chaga harvest under the principles of Fair Trust.
From the total of 2,5kg of Chaga that we harvested, we were left with 900g after drying.  The process took 3 days and we invested our travel costs into this work.  We hope with this initial batch to stimulate interest and more orders for a yearly harvest of the highest possible quality of Chaga.
Our limited quantities of this harvest are aimed to offer you a special introduction to Chaga's adaptogenic and immune system boosting effects. 5 Ml Tincture is more than enough to offer a strong liter of Chaga Water.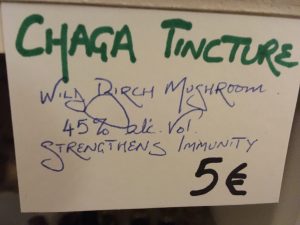 Preparation
Zavarka – Traditional Tea making process with Hot water extraction. Boil 5g of Chaga in a pot with 2 litres of water, allow to simmer for at least 15 minutes strain and serve in a cup. The longer you let your chaga boil, the stronger it will get, it can always be diluted. Generally you can cook and recook the Chaga over a couple of days until the chaga water lacks color.
Thermos preparation – Alternative is to boil it for 5 minutes and put the content with Chage in a thermos or drop 5 ml of tincture into it. We recommend usage with a good quality thermos.  Meta Mate Thermolars hold the water at 100°C for six hours what allows maximum extraction from the Chaga benefits.
Chaga Mate: Serve your mates with chaga water for a strong system booster.
Our kid's tip: a warm cup of chaga with oat milk and coconut sugar before bedtime
You can read more about Chaga (Inonotus obliquus) in Wikipedia