Description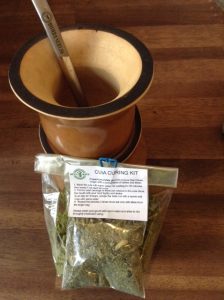 Recomended for newbees looking for a set to start drinking mate that does not entail a high investment.
This polished calabasa from the Family Trevisol is produced by a cooperative in South Brasil.  The fact that the light-weight base and cuia are separate make this ideal for transporting easily and  ensure that the cuia will keep circulating from hand to hand when drinking mate as it cannot rest on the table without the base.
The small Bomba Serejo is a sleek stainless steel straw that fits into every pocket and can be used with our leafier cuts such as 23, Raw and Moida Grossa.
And last but not least, this set comes with a special package of Mate and ash and instructions on how to use them to cure your cuia.   You will have to buy your drinking mate separately.