Description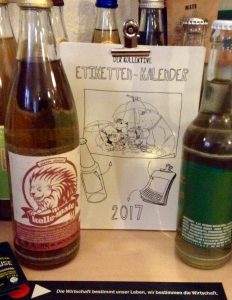 Alerta! Alerta!  Fans of Mate Limos and Label art, the Mate Kollektivists from Dresden have brought out a calendar to celebrate their label art.
Printed on A5 Carton (100% recycled from old paper) and held together with a reusable clip, each calendar page features a motive that is normally found on the rear side of the Kolle Mate labels (you have to drink the Mate to see the art normally!)
An added bonus is that each page is designed so that you can cut the label out and send it to a friend as a postcard when the month is finished.
We recommend that you add some Hacker Brauses to your order in case it is a gift for a special someone!