Description
These cuias come from the ancient valley of Sofia, where Rumiana Docheva crafts each clay mate pot by hand and then etches them with mystical symbols, giving each cuia a unique identity.  No cuia can nor will be duplicated.
This cuia is inspired by the Uruguayan and Argentinean mates, which lack the rim that allows one to build up a mate mountain on the side.  The rand is slanted which is ideal turning sidewards and shaking, this can only be used with leafy mates.
The decorative base, etched with the same ancient symbol is ideal for resting mate.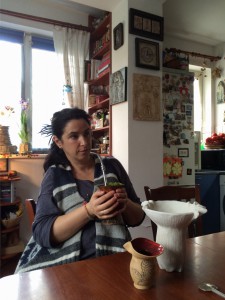 Word from the artist:
"I studied ceramics at the School of Arts and National Academy of Arts. I use white fine fireclay ond very ancient hand building technique. I use lead-free glazes.I love my job and I make everything with pleasure."