Description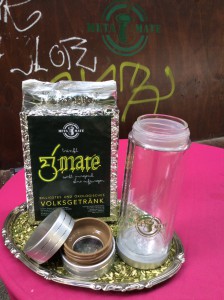 23 is here in time for the summer!
Ideal for hot or cold infusions, take advantage of this special offer and enjoy your Meta Mate 23 on the go with our 2 in 1 Thermo Glass.
This organic certified, leafy, fresh mate from Brasil has a mild taste which makes it ideal for Mate novices or those wishing to enjoy a refreshing energizing drink. It is ideal for Terere preparations (consumed cold and combined at times with juices) as well as hot mates and can be consumed as a tea or in the traditional way.
The Meta Mate 2 in 1 Thermoglass is another innovation that Meta Mate is bringing on the market.  For those who enjoy to have their mate on the go without the hassle of a cuia and bomba, this acrylic Mate Thermo with an inner glass chamber  a convenient way to take your mate with you and keep it warm for a couple of hours. The 23 green mate is on a special offer as it does not come vacuum packed.