Lagrimate -an Ode to Caayari:  Viola Saur, Romulo Chavez and Fabricio do Canto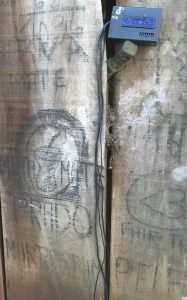 Great news to be shared is that the Gehm Barbacua is ready and will be inaugurated with the 2018 Dream Harvest on June 16th, 2018.  This is a milestone in our efforts to legalise the craft mate production by autonomous family producers.  
A museum will be dedicated in the historic barbaqua and there will be a gathering to celebrate and commemorate w(including the premiere of a Gaucho German Gospel. This means that the Family Gehm is able to produce more mate and have a chance to sustain their families from this craft.  There will be a need to do so to pay for the financing. We are confident Meta Mate will give a jump soon. For the ones that are new and question who we are and why we do not tell so much on the web about what we do. It is because we do not focus on story telling, or promoting advertising.
The first time this year we have a Journalist accompanying our harvest, although a TV channel already requested it and we refuted. The Media team from Meta Mate Br came from Sao Paulo to learn and make the meta mate, so soon we will have more information to share.
Prior to the IllumiMate harvest, we gathered inside the almost completed new Barbacua from the Family Gehm to tune and meditate with a mate on our intentions. The elder Gehm expressed his thankfullness naming our work over the last years towards the legalization of the craft mate production. A special thanks were given to Ricardo (who was with us in spirit) and Fabricio, for their long-run dedication, time and personal effort. Fabricio wept and shed tears several times after when reflecting upon the moment, it is a touching time surrounding this harvest.  (editor's note – Fabricio is too modest to admit it, but none of this would be possible if not for his perseverance and vision)
This get together, included some other guests, all with the heart into the production. To name , the Gehm Brothers, teachers on the cut; the Gehm elders and wives for the support; the Gehm children for the fun; Evandro, our accountant, who already made mate as a child; Jeronimo and Barbara, the heart of the logisitc (and much more); Andrea, a Budhist and Sintropic entusiast; Fabi) and Afra, the media designers for Meta Mate; Prof. Philomena, for the Ecology . All of them met at 5 am , to go into the night to harvest.
In subsequent harvests we were joined by chief uru Ricardo, melodious Matera Viola and guided by Caayari.

This Mate will be available towards the end of August in Europe and the USA.
We are still not sure if we will be able to ship by sea, but if not we would send boxes from Germany to a central place. We will see later logisticaly where it is better to be shipped the bundle orders to distribute. We suggest the Meta Mate YMU fans who would like to reserve some of this limited production, to help us by planning and confirm your request now. The price is fixed and includes the central delivery in the USA. As in the spirit of producing and having the best mate it is to recommend the old tradition where an connoiseur who knows which mate he likes to have or share with special friends, is bought once a year by the harvest. So there are people that buy 100 kgs from one producer for its whole family, there are others that buy 20 kgs for personal use. We know this is still not the practice in the abroad, but we want to stimulate the thought.
Quality does not come in a price bargain. Quality comes from dedication and choice, and the consumer is also a part of it.