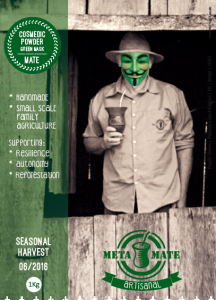 According to the Journal of Nutritional Biochemistry, Mate reduces damage caused by UV rays and combats free radicals.  It is rich in Vitamin A, C, & E and the alkaloids derived from its caffeine stimulate circulation, thus combating cellulite and fat, while the saponines are light cleaners with an anti-bacterial effect
Inspired by Mate's skin soothing skills, together with Britta Gerth from Vezauberin  we launched RejuveMate Soap in 2012 and are following up with a natural mate moisturiser for the face.
Experience a Meta start to your day radiating mate from the inside and outside with our range of meta mate cosmetics.